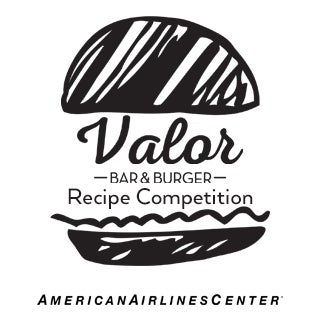 Valor Bar & Burger Recipe Competition Rules
Competition open to individuals only. No teams or restaurant groups allowed to enter. Competition is open to individuals who are legal residents of Texas and are 19 years or older at time of entry ("Entrant(s)" or "entrant(s)"). Void where prohibited by law. Employees of the American Airlines Center and its promotional partners and their respective parents, affiliates and subsidiaries, participating advertising and promotion agencies (and members of their immediate family and/or those living in the same of household of each such employee) are not eligible.
Entries will be accepted between September 11, 2017 until September 20, 2017. By entering into the Valor Bar & Burger Recipe Competition ("Competition"), the entrant warrants that his or her entry is original and does not infringe the intellectual property rights of any third party.
Burgers must consist of 1/3 lb. beef patty. Buns and all other ingredients are at the discretion of the entrant.
American Airlines Center and Levy officials will pick the three finalists from all entries received based on creativity, ease of preparation and relevance to the space. Incomplete and/or inaccurate entries and entries not complying with all rules are subject to disqualification.
Entrant will be notified by phone or email by American Airlines Center/Levy officials no later than September 22, 2017.
The three finalists will appear at a cook off at American Airlines Center on September 27, 2017. At this event, finalists will prepare and cook their burger. A panel of judges will choose the winning burger based on creativity, presentation, ease of preparation, and taste.
On September 27, 2017 the finalists will check in from 2:00 p.m. to 2:30 p.m., preparation and cooking of burgers from 3:00 p.m. to 3:59 p.m., and judging of burgers and announcement of winner from 4:00 p.m. to 5:00 p.m.
American Airlines Center/Levy will provide all ingredients needed to make 6 burgers for the finalists on September 27. If an entrant requires specialty ingredients that can only be sourced from a particular location (ie: buns from a particular baker or international spices), it is entrant's responsibility to note this information on application.
Each finalist must prepare, cook, and present 6 burgers for judging panel. Each entrant which is a finalist will be required to execute a Release and Waiver of Liability document prior to commencement of the preparation, cooking and presentation of the burgers.
No pre-cooking or preparation of any ingredients will be allowed.
The winning burger will be featured as the Burger of the Month for October 2017 at Valor Bar & Burger.
Burger must be cooked no less than medium or 145-150 degrees Fahrenheit.
The winner will also receive 2 tickets to a Dallas Mavericks game & dinner for 2 in the Lexus Platinum Club, 2 tickets to a Dallas Stars game & dinner for 2 in the Lexus Platinum Club, and 2 tickets to one concert in 2017-2018. Games and concert will be chosen by American Airlines Center, Dallas Mavericks, and Dallas Stars officials at their sole discretion.
All results are final and binding. Entrants are reminded that this is a friendly burger recipe competition and sportsmanship is required at all times.
By entering this Competition, Entrant represents that any product(s) and other materials submitted as part of Entrant's Competition entry are original and will not constitute defamation or an invasion of privacy or otherwise infringe upon the rights of any third party, and that the Entrant owns or has the rights to convey any and all right and title in such products and other materials. In addition, by entering, Entrant grants to the American Airlines Center a non-exclusive, worldwide, royalty-free license to edit, publish, promote, republish at any time in the future and otherwise use Entrant's submitted product(s) and materials along with Entrant's name, likeness, biographical information, and any other information provided by Entrant, in any and all media for possible editorial, promotional or advertising purposes, without further permission, notice or compensation (except where prohibited by law). Entrants agree to hold American Airlines Center and its promotional partners, its directors, officers, employees and assigns harmless for liability, damages or claims for injury or loss to any person or property relating to, in whole or in part, directly or indirectly, participation in this Competition. False or deceptive entries or acts will render the Entrant ineligible. American Airlines Center, in its sole discretion, reserves the immediate and unrestricted right to disqualify any entrant if such commits or has committed any act, or has been involved or becomes involved in any situation or occurrence which the American Airlines Center deems likely to subject it, entrant or winner to ridicule, scandal or contempt or which reflects unfavorably upon the American Airlines Center in any way. If such information is discovered by American Airlines Center after a winner has received notice of his status and before being named a winner by American Airlines Center, American Airlines Center may disqualify the entry.
This Competition is governed by the internal laws of the state of Texas without regard to principles of conflict of laws. All cases and claims pertaining to this Competition must be brought in a court of competent jurisdiction in the City of Dallas, without recourse to class action suits.
If any provision of these Competition rules is found to be invalid or unenforceable by a court of competent jurisdiction or appointed arbitrator, such determination shall in no way affect the validity or enforceability of any other provision herein.