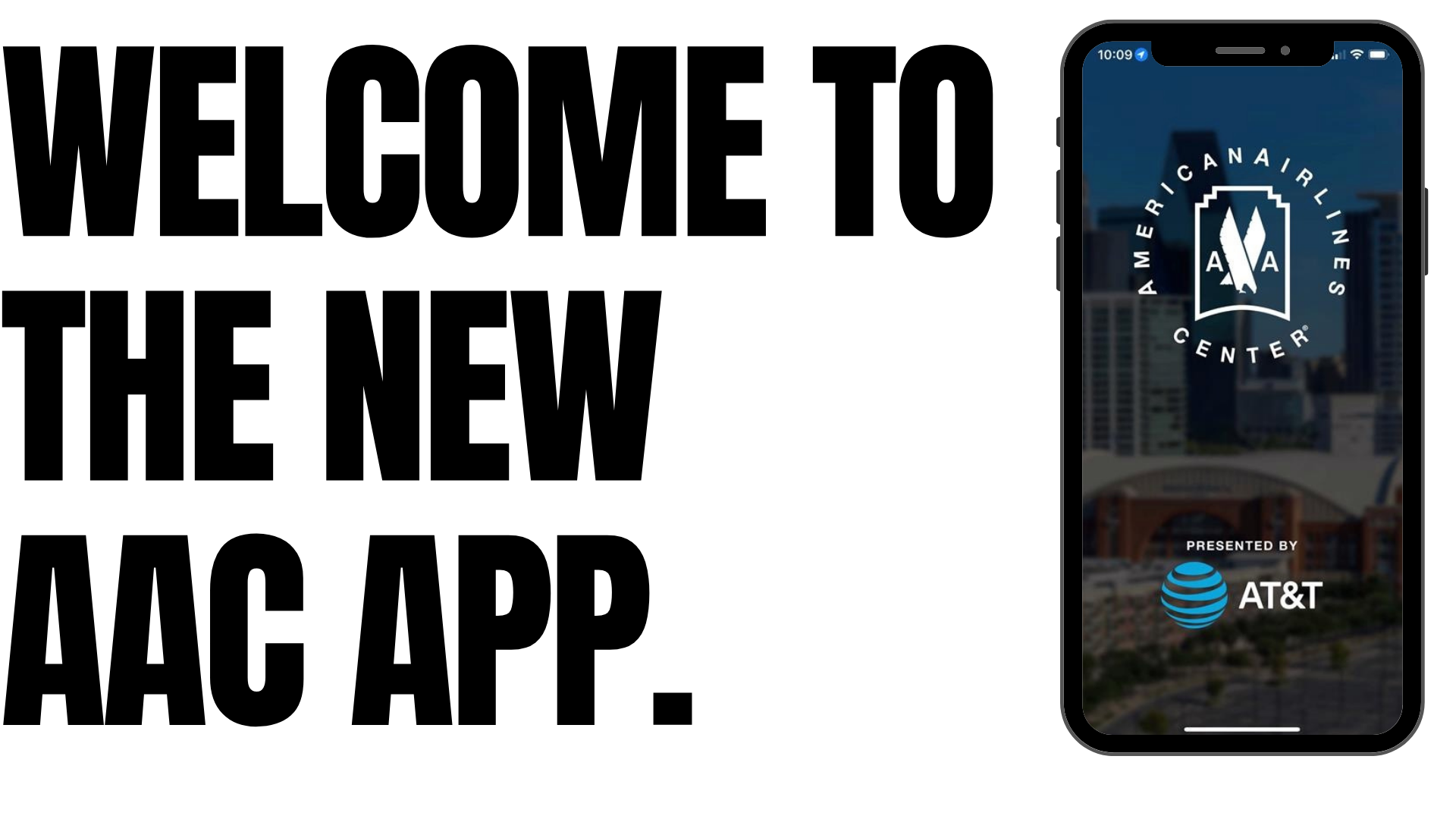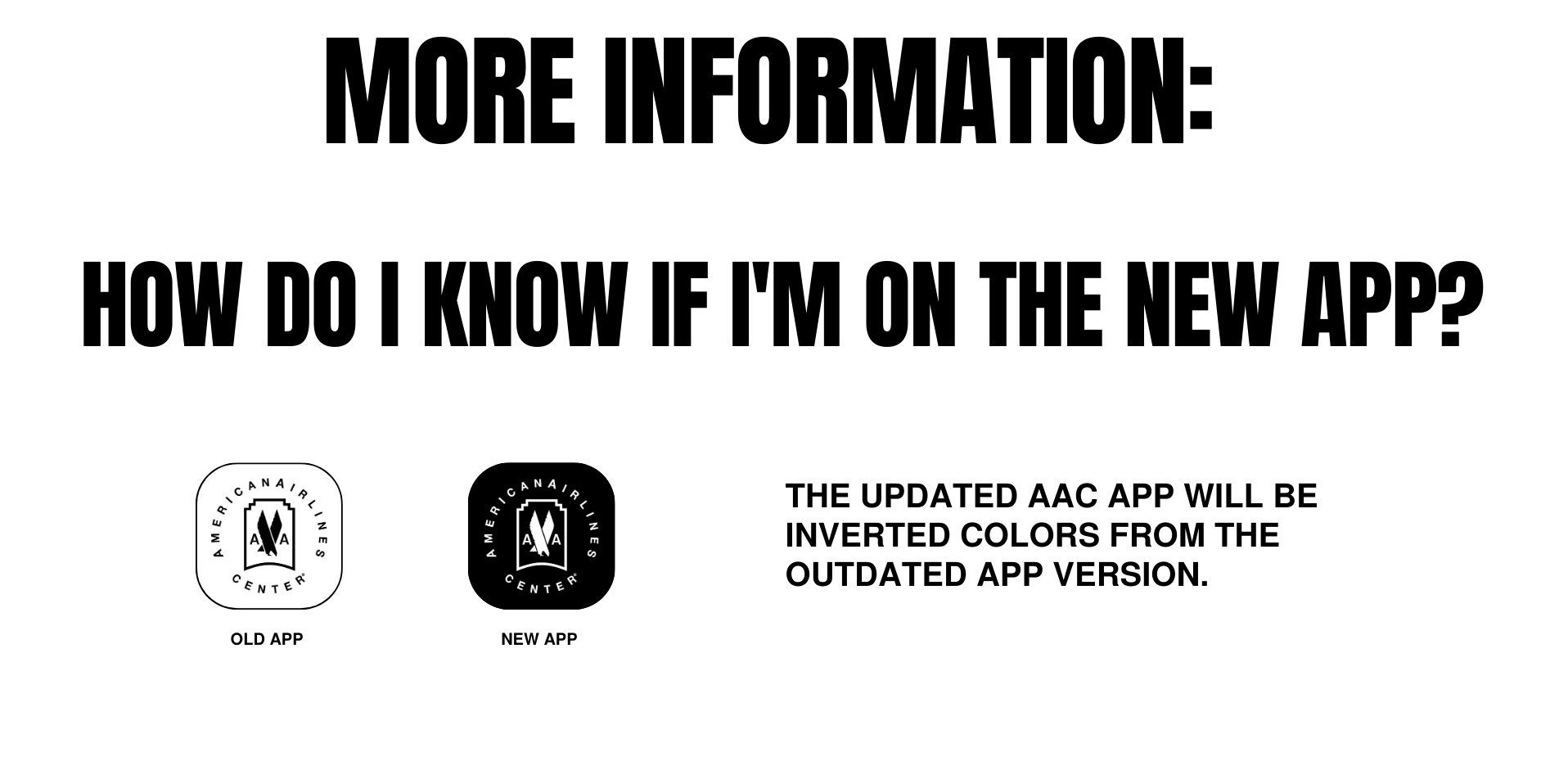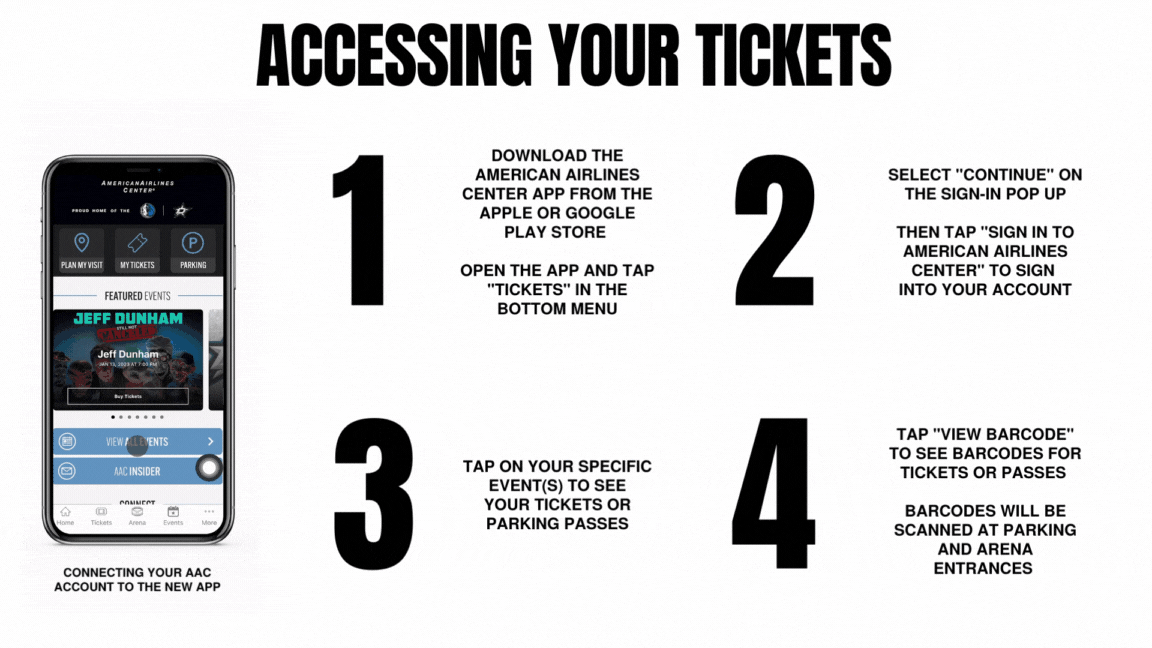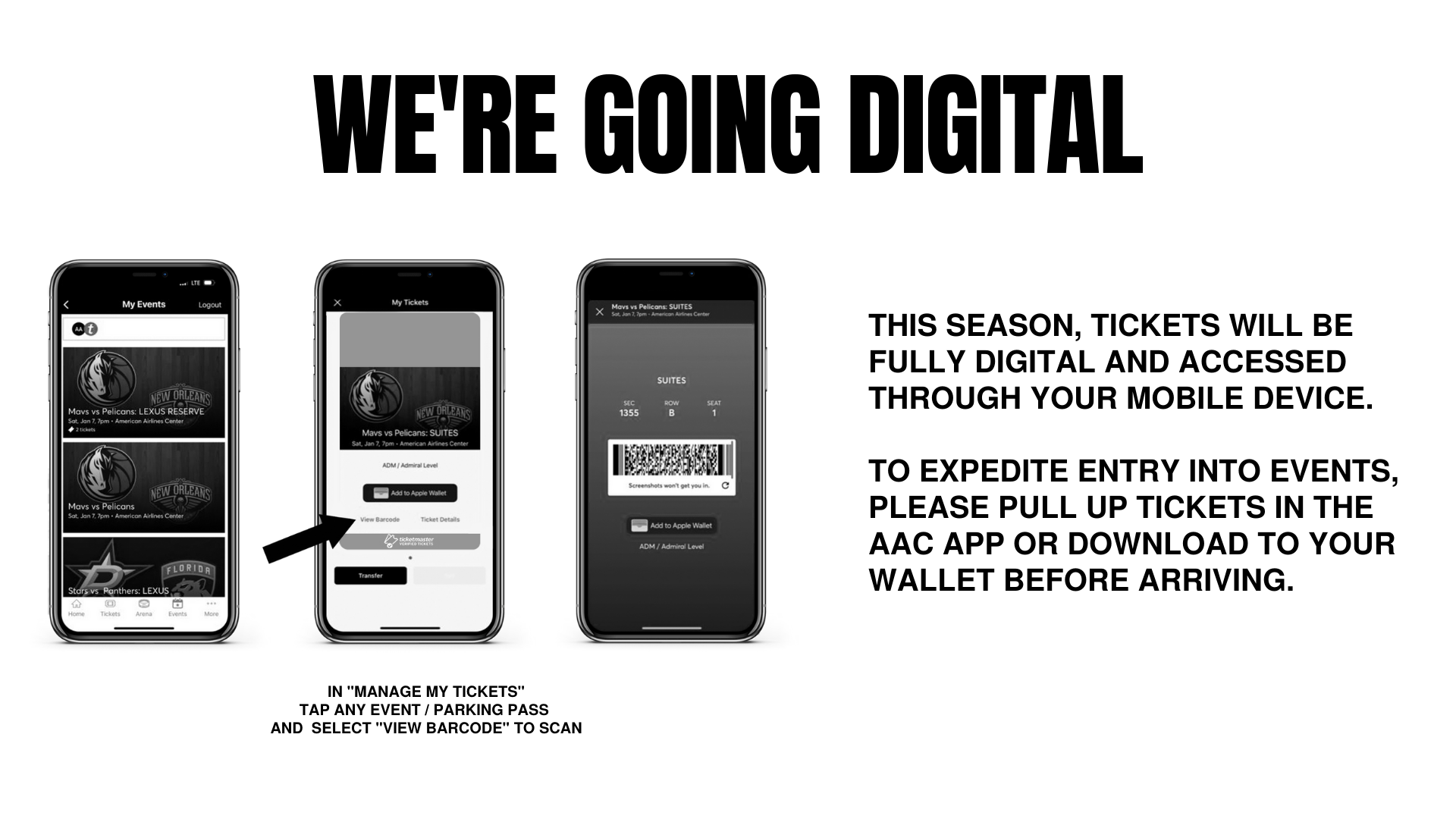 GET THE APP

THE AAC APP IS AVAILABLE FOR iOS AND ANDROID. YOU CAN DOWNLOAD IT FOR FREE IN THE APP STORE OR ON GOOGLE PLAY.

ABOUT SAFETIX

WHEN YOU TAP "VIEW BARCODE" YOU WILL SEE A BLUE LINE MOVING ACROSS THE BARCODE. THIS INDICATES YOUR TICKETS ARE VALID.

SAFETIX ARE A TYPE OF DIGITAL TICKET THAT WILL NOT ALLOW YOU TAKE SCREENSHOTS. SCREENSHOTS OF TICKETS WILL NOT BE ACCEPTED BY AAC TICKET SCANNERS.

ACCESSING WI-FI

GUESTS CAN CONNECTED TO THE AMERICAN AIRLINES CENTER WI-FI FROM THEIR WIRELESS DEVICES BY SELECTING "AAC WIFI" FROM THE LIST OF AVAILABLE NETWORKS. THERE IS NO PASSWORD REQUIRED TO ACCESS THE NETWORK.

I FORGOT MY PASSWORD?

TO RESET YOUR PASSWORD:

GO TO THE "TICKETS" TAB AND SELECT "MANAGE MY TICKETS."
IN THE POPUP, SELECT "CONTINUE" TO OPEN THE LOGIN WINDOW. TYPE IN THE EMAIL ADDRESS ASSOCATED WITH YOUR AAC ACCOUNT.
IN THE BOTTOM RIGHT CORNER, TAP "FORGOT PASSWORD?"
FROM THERE, YOU MAY SEND A CODE TO YOUR EMAIL OR PHONE NUMBER ASSOCIATED WITH YOUR AAC ACCOUNT.
A ONE-TIME CODE WILL BE SENT TO YOUR EMAIL OR PHONE NUMBER. ENTER THE RESET CODE ONCE RECEIVED.
FOR SECURITY PURPOSES, YOUR AAC PASSWORD MUST CONTAIN AT LEAST 8 CHARACTERS, INCLUDE A LETTER, AND INCLUDE AT LEAST ONE NUMBER.
ONCE RESET, YOU MAY LOG INTO YOUR ACCOUNT FROM THE SAME "MANAGE MY TICKETS" TAB.

VIEW THE INTERACTIVE WALKTHROUGH ON HOW TO RESET YOUR PASSWORD BELOW:

MANAGING TICKETS

OPEN THE AAC APP ON YOUR SMART PHONE.
TAP "MY TICKETS" ON THE HOME PAGE, OR NAVIGATE TO THE TICKETS TAB AND SELECT "MANAGE MY TICKETS."
LOG INTO YOUR AAC / TICKETMASTER ACCOUNT.
ONCE LOGGED IN, YOU WILL BE ABLE TO SEE ALL AVAILABLE TICKETS AND PARKING PASSES FOR YOUR UPCOMING EVENTS.

SCREENSHOTS

SCREENSHOTS ARE NOT VALID AND WILL BE UNABLE TO SCAN AT ENTRY. TICKETS MUST BE SCANNED THROUGH THE AMERICAN AIRLINES CENTER APP OR TICKETMASTER APP. TICKETS CAN BE SENT TO OTHERS USING TICKET TRANSFERRING THROUGH THE APP OR THROUGH YOUR TICKETMASTER ACCOUNT.

SEEING THE OLD APP

THE PREVIOUS AAC AAP DISPLAYED A WHITE AAC ICON. IF YOUR PHONE IS STILL DISPLAYING THE OLD APP, PLEASE UPDATE YOUR APPS BY GOING INTO THE APP STORE AND TAPPING YOUR ACCOUNT. IF THIS DOES NOT WORK, DELETE THE APP AND RE-DOWNLOAD FROM THE APP STORE.

SOMETHING NOT WORKING?

IF SOMETHING ON THE UPDATED AAC APP IS NOT WORKING, FEEL FREE TO LET US KNOW. SUBMIT FEEDBACK TO TELLAAC.COM AND OUR DEVELOPERS WILL WORK ON A SOLUTION!

TICKETS NOT DISPLAYING

IF YOU HAVE CONNECTED YOUR AAC ACCOUNT TO THE APP AND DO NOT SEE YOUR PURCHASED TICKETS OR PAKING PASSES TO UPCOMING EVENTS, PLEASE FOLLOW THE BELOW STEPS TO VIEW YOUR TICKETS IN THE AMERICAN AIRLINES CENTER APP.

MAKE SURE YOU HAVE THE LATEST VERSION OF THE APP INSTALLED.
LOG IN USING THE SAME EMAIL ADDRESS USED WHEN PURCHASING TICKETS. IF THIS IS YOUR FIRST TIME USING THE AAC APP, ENTER YOUR TICKETMASTER EMAIL AND PASSWORD TO CONNECT TO THE AAC APP.
IF YOUR TICKETS WERE TRANSFERRED TO YOU, MAKE SURE YOU ARE SIGNING IN WITH THE SAME EMAIL ADDRESS THE INITIAL TICKETHOLDER USED TO TRANSFER THE TICKETS.
IF YOU DO NOT HAVE AN AAC ACCOUNT / TICKETMASTER ACCOUNT YET, SIGN UP USING YOUR EMAIL ADDRESS AND/OR THE EMAIL ADDRESS THE TICKETS WERE TRANSFERRED TO.
ANY TICKETS YOU HAVE FOR AN EVENT AT AAC WILL SHOW UP IN THE APP UNDER "MANAGE MY TICKETS." CLICK ON THE EVENT TO VIEW YOUR MOBILE ID.
PLEASE HAVE THE BARCODE READY TO BE SCANNED WHEN ARRIVING AT PARKING GARAGES OR UPON ENTERING THE VENUE.

TRANSFERRING TICKETS

TICKET TRANSFERRING ALLOWS YOU TO SEND TICKETS ELECTRONICALLY TO ANYONE WITH A VALID EMAIL ADDRESS THROUGH THE AAC APP OR TICKETMASTER APP. YOUR TRANSFER RECIPIENT WILL RECEIVE A NOTIFICATION EMAIL INSTRUCTING THEM TO EITHER CREATE AN ACCOUNT TO REDEEM TICKETS OR INFORMING THEM TICKETS HAVE BEEN SUCCESSFULLY TRANSFERRED INTO THEIR EXISTING ACCOUNT. ONCE TICKETS ARE IN THE RECIPIENT'S ACCOUNT, THEY WILL USE THEIR AAC APP OR TICKETMASTER APP FOR ENTRY.

TROUBLESHOOTING

IF YOU ARE HAVING ISSUES ACCESSING TICKETS OR LOGGING INTO THE APP, TRY ANY OF THE FOLLOWING:

MAKE SURE YOU ARE SIGNED IN WITH THE SAME EMAIL ADDRESS USED WHEN PURCHASING YOUR TICKETS. YOU SHOULD HAVE AN ORDER CONFIRMATION DELIVERED TO THE EMAIL UTILIZED TO PURCHASE TICKET(S).
IF TICKETS WERE TRANSFERRED TO YOU, MAKE SURE YOUR FRIEND TRANSFERRED THEM TO THE CORRECT EMAIL ADDRESS.
ENSURE YOU HAVE THE LATEST VERSION OF THE APP INSTALLED.
MAKE SURE YOUR PHONE'S DATE AND TIME SETTINGS ARE SET TO AUTOMATIC IN GENERAL SETTINGS.
DISCONNECT ANY VPN YOU MAY BE CONNECTED TO AND TRY AGAIN.
DISCONNECT FROM WI-FI AND TRY THE ABOVE STEPS USING MOBILE DATA INSTEAD.
ARE YOU USING A WORK DEVICE? IF YOU HAVE FOLLOWED ALL STEPS AND STILL ARE UNABLE TO ACCESS TICKETS, YOU CAN TRY USING A DIFFERENT DEVICE.
IF YOU ARE GOING TO THE EVENT WITH A FRIEND, YOU CAN SIGN IN TO YOUR TICKETMASTER ACCOUNT USING A WEB BROWSER AND TRANSFER THE TICKET(S) TO YOUR FRIEND.

STILL CAN'T ACCESS YOUR TICKETS? PLEASE VISIT OUR BOX OFFICE ON EVENT NIGHTS, CALL THE BOX OFFICE AT 214-665-4797 FOR FURTHER INSTRUCTIONS, OR LET US KNOW AT TELL AAC.

USE TICKETS

FOR EVENT ENTRY INTO AMERICAN AIRLINES CENTER, TICKETS AND PARKING PASSES WILL BE SCANNED THROUGH THE AAC APP.

LOG INTO YOUR ACCOUNT FOLLOWING THE INSTRUCTIONS ABOVE.
SELECT THE "TICKETS" TAB ON THE BOTTOM OF THE APP AND SELECT YOUR EVENT.
AN AAC GUEST SERVICES REPRESENTATIVE WILL SCAN YOUR MOBILE ID TO REDEEM ALL OF YOUR TICKETS. IF YOU ARE WAITING FOR SOMEONE IN YOUR PARTY TO ARRIVE, YOU MAY TRANSFER THEIR TICKET.

WHAT IF I DO NOT HAVE A SMART PHONE?

IF YOU DO NOT HAVE A SMART PHONE, OR YOUR PHONE BREAKS, IS LOST OR STOLEN, OR YOUR BATTERY DIES, PLEASE LOCATE A GUEST SERVICES REPRESENTATIVE AND/OR VISIT THE BOX OFFICE FOR FURTHER INSTRUCTIONS ON VALIDATING YOUR TICKET PURCHASE. YOU WILL NEED A PHOTO ID THAT MATCHES THE NAME ON THE ACCOUNT USED TO PURCHASE THE TICKETS.